Fun Parks in Branson, MO


Fun parks are located throughout the Branson MO area. These are great destinations for your summer travel, especially if you are traveling with kids!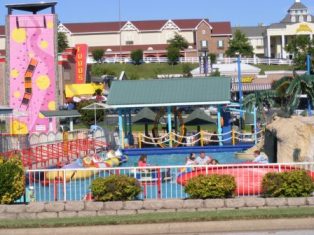 Bumper Boats Fun Park on 76


Bumper Boats Amusement
1715 W. Hwy 76
Branson, MO 65616
417-335-2628
76 East-light green on our area map

Located in front of the skating rink and next to Fuddruckers, Bumper Boats Amusement focuses on some great water fun


The Track Family Parks has 4 locations in the Branson area. Each differing site offers activities from go-carts, mini golf, and kid's rides to arcades, laser tag, even a giant sky coaster. Go-Cards may be purchased and used at any park. The whole family can use the same card with unlimited half-price rides, mini golf, and arcade games.

The Go-Card will also get you a half-price discount on the Ozark Mountain Skycoaster and the Lazer Runner, plus a FREE sundae from Andy's Frozen Custard located at Track 4. Are you planning to see any shows, have dinner, or visit other attractions? Show your Go-Card and receive discounts at participating locations.

If you are searching for a fun place to have a party, The Track has Party Rooms available at Tracks 3, 4, and 5

You can contact the home office of the Tracks at:
3388 Green Mountain Drive
Branson, MO 65616
417-334-1612

TRACK # 3 and KIDS KOUNTRY
2505 and 2435 West Hwy 76
Branson, MO 65616

This is in the 76 CENTRAL AREA, across from the Grand Palace and Moon River Café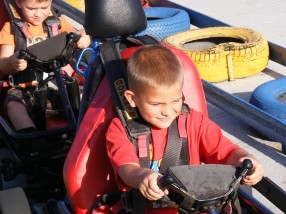 Experience the only 4 story wooden track in Missouri! Wild Woody is over 1400 ft long with a twisting, spiraling track that will excite even the biggest kids. This amusement park ride is for drivers over 58" and passengers over 36". Also at Track 3 is classic Go-Karts, the new Road Course Track, The new Tri-Oval Track and the new Rookie Go-Karts

Go-carts aren't the only thing at Track #3. You'll also find Bumper Boats, the Lost Mine Miniature Golf and of course the arcade. Kiddie Kountry is also at this location complete with kid's rides including Kiddie Go-karts, Kiddie Bumper Boats, the new swinging Pirate Ship and more amusement park rides. The Kiddie Go-Carts ride is for children 38" tall and at least 4 years old.



THE TRACK AT PIRATE'S COVE
2911 Green Mountain Drive
Branson, MO 65616
Bransontracks.com
76 Central-Light orange on our area map

Discover the Classic Go-Carts at Pirates Cove. Go for a drive if you are over 54"



TRACK # 4
3345 West Hwy 76
Branson, MO 65616
Bransontracks.com
This is in the 76 WEST AREA and is just east of the Lodge of the Ozarks & Hughes Brothers Theater.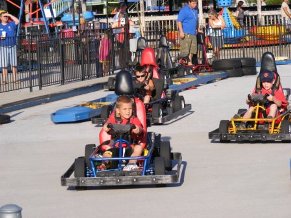 Track # 4 is full of attractions with several levels of Go-carts including the new Heavy Metal High Rise, Classic, Rookie and Kiddie Go-karts. The fun continues with Bumper Boats, Bumper Cars and the thrilling Ozark Mountain Skycoaster

The little ones will be entertained on the kiddie amusement park rides. Gator mini-golf and the arcade are also among the attractions at this fun park. A treat will be welcome after all the activity and you can relax at Pizza World and Andy's Frozen Custard (both are on site)


TRACK # 5
3525 West Hwy 76
Branson, MO 65616
Bransontracks.com
76 West-Light yellow on our area map


This is just west of White Water


This is the home of the 3 story high Lumberjack Go-cart track. Classic Go-Karts, Rookie Go-carts and Bumper Boats are also at this fun park site

In the mood for a little action? The Lazer Runner Laser Tag will stimulate that competitive spirit and test your aim with laser beams. You can find the Lazer Runner here at Track #5


Branson Family Fun Factory
2400 State Hwy 165
Branson, MO 65616
417-332-2110
Bransonfunfactory.com
HWY 165 AREA Lavender on our area map

just 3.2 miles south of Hwy 76. Turn right into the Welk Resort and take 1st left. This fun park is across from Pointe Royale

The 18 Hole "Glow in the Dark" course has 4 different themes. The large Laser Tag Arena hosts multiple games and there is a Game Room and also a party room on site


Outlaw Racing Go-Carts
3342 W. Hwy 76
Branson, MO 65616
417-339-3342
76 West-Light yellow on our area map

Fastest carts in town!


The Ejection Seat
3350 W. Hwy 76
Branson, MO 65616
417-339-3342
76 West-Light yellow on our area map

The thrill ride called the Ejection seat shoots into the sky attached to bungee cord like cables and with a rush of a fall drops then bounces up and down