Little Rock-Branson road trip


Little Rock-Branson is one of our favorite road trips to take. The beauty of the Arkansas Mountain region as well as the opportunity to travel, at least in part, the 2-lane highways of yesteryear make this a fun and satisfying trip if you take it slow and enjoy it.


I traveled this route for business for many years and then we spent a lot of time on the road when our two daughters were in college at Searcy. There have been many improvements to the highway since those days that make the trip quicker and the road safer but it also took away some of the character. Thankfully, there is still a lot of the old road left to enjoy.


We are beginning our Little Rock-Branson trip headed west on I-40 at exit 147 (Jct of I-430) and re-setting our trip odometer at 0.0. Interstate 40 is northbound from exit 147 to Hwy 65 (exit 125 at Conway) and is entering the mountain region that will dominate the Little Rock-Branson trip.


Hwy 65 will be a mixture of 2-lane, 3-lane and 4-lane road with speed limits of 55-60 mph except through the towns and villages. None of the route is interstate so you need to be aware of the side access from roads and driveways along this route. It is also a route with a lot of hills and curves so our suggestion is to plan on a 4-5 hour trip, drive at a comfortable speed and make a few stops along the way at some of the interesting businesses or to take in the scenery.


Our mileages do not include any stops so you will have to adjust for the stops that you make. You should also remember that cars may read mileages a little different.


I-40, Little Rock to Conway, exit 125


Starting Point

0.0 miles --Road trip begins on I-40 at the exit 147 ramp (this is the I-430 ramp)


22.6 miles -- Exit 125 ramp to Hwy 65 at Conway, AR. There are several C-stores, restaurants, motels and other business at this location.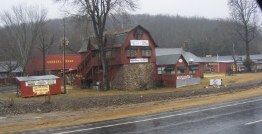 24.8 miles --On the west side of the road is the replica of an old time town called Pickles Gap Village.Full of shops, restaurants and a kiddie land, this is a stop you might want to make.





Note
- From Pickles Gap to Clinton, AR is mostly 4-lane, though not divided. There is about a mile around Bee Branch, AR that is 2-lane and then it is 3-lane up and then down the mountain from Bee Branch to Clinton
Continue Little Rock-Branson Road Trip
49.5 miles -- Bee Branch, AR is at the Hwy 92 Jct. There is a convenience store at the Jct.



Note
- From Bee Branch you will climb the mountain and as you descend and wind down the mountain you will see the towns of Choctaw and Clinton, AR. As you cross Choctaw Creek, the commercial area begins and continues through Clinton, AR
Continue Little Rock-Branson Road Trip
58.5 miles --The Clinton Wal-Mart at Volunteer Pkwy is on the west side of the highway. As you continue through the town of Clinton there will be shopping areas, restaurants, motels and convenience stores. Clinton is a nice little town with a population around 2,500. The town is named after DeWitt Clinton (1769-1828), the New York governor who built the Erie Canal. It was not named for President Bill Clinton as some might expect.
61.4 to 61.7 miles --Hwy 16 first exits to the west and follows a mountain route that is a joy to travel if you have the time. This is a route that goes deep into the Arkansas Mountains along curvy mountain roads and ends up some 67 miles and 2 hours later at Sand Gap, AR on Hwy 7. This is way out of the way on our Little Rock-Branson trip, but it was an interesting side trp for those with a lot of time on their hands

Hwy 16 to the east takes you to several access routes to Greer's Ferry Lake.



Note- As you leave Clinton you begin to ascend a long gradual but at times steep mountain

Continue Little Rock-Branson Road Trip


65.2 --If you are looking for a nature stop, take the Natural Bridge Road which is on the right and follow for a mile. There is a $3 fee. There are other natural bridges in Arkansas, one near the Jct of 16 and 7 near Sand Gap and one near Eureka Springs, AR. If you like nature you will find endless opportunities in the Ozark Mountain Region.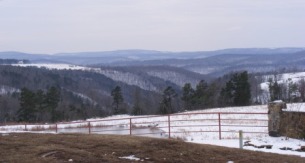 Note- No matter what time of year, the scenery along this mountain drive is spectacular




Continue Little Rock-Branson Road Trip


76.3 --The steep downgrade down the mountain begins and hopefully you have good brakes, if not there is a runaway ramp about a mile and a half down the mountain. For peace of mind, let the truck traffic get in front of you. There is a spot to pull over and check your brakes and take a break before your descent. My intention is not to make this sound as though your coming down from the Rocky Mountains, but you should start slow and tap your brakes occasionally or descend in a lower gear.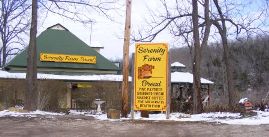 As you come off the mountain, you will be closing in on the town of Leslie. This is about the halfway point of your Little Rock-Branson road trip. On the east side, just before getting to the town is a great little shop to stop and get some coffee and treats. Filled with unique items and fresh bread the little shop overlooks the creek that runs through town. It is a beautiful setting with friendly people and well worth a stop. I am told the building was purchased from a Sears catalogue in the early 20th century and shipped into town on the railroad.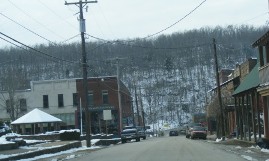 81.3 --Leslie is an interesting little town filled with antique stores, flea markets and more. You might check out the coffee bar at the Cove Creek Emporium or have a meal at the Leslie Café. The Killebrew House, circa 1907 can be toured with a reservation and The Ozark Heritage Arts Center and Museum is right off the downtown area in the old Community Hall, circa 1938. This is a great stop on your road trip.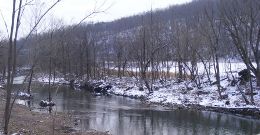 The picture to the right is Coal Creek that runs through the town of Leslie
Continue Little Rock-Branson Road Trip
As you leave Leslie there is a Conoco C-store on the east side and about 4 miles up the road you'll start a gradual incline up a small mountain which quickly becomes steeper. At the top, there is a parking area on the west. Stop here and take in the panoramic view of the valley below and the distant mountains
88.4 --As you come off the mountain you arrive at the town of Marshall, AR. There are the normal businesses in town but on the east side is the Daisy Queen which was a frequent stop of mine for a burger or hot dog. There are several good food stops on the Little Rock-Branson trip but if you want to save some time or get something to go, this is a good stop to make.




90.9 --As you leave Marshall, you will travel on the new bypass that replaces a treacherous road with hairpin curves. The bypass is good but I always looked forward to that little stretch of curves. The beginning of the old road is on your right and if you look closely you can see some of the old road in the next ½ mile or so. The bypass ends in about a mile and a half



The next few miles is a pretty drive through the valley and then back up a mountain. You'll pass the junction of Hwy 74 which will take you to Snowball, AR. From this junction you will continue on a curvy road that soon will begin to ascend up the mountain. This road will have some 2-lane and 3-lane roads.
98.6 --You begin the descent down to the Buffalo River and pass the Silver Hill Grocery and Canoe Rental and the Tyler Bend Area Campground. The Tyler Bend Campground offers RV accessible campground and visitor center and is a great base for your float and fishing excursions. The Little Rock-Branson trip is a short trip but if you're RV'ing or tenting and want to make this a multi-day trip this is a great place to stop.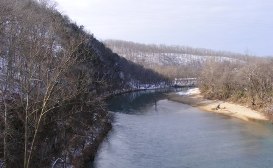 99.6 --The Buffalo River was the first National River in the US. The river is over 150 miles long beginning in the highest part of the Boston Mountains and flowing east into the White River. The upper section to the west is where most of the whitewater rapids, waterfalls and large limestone bluffs can be found. Whether you are looking for floating whitewater rapids, taking a leisurely float or fishing you'll find a perfect spot on this river. These hills are also home to many trails for hiking and biking



Continue Little Rock-Branson Road Trip
After crossing the river you will again begin an ascent up a mountain. This is a new section of road that bypasses the beautiful old road that curved up the mountain
101.1 --Coursey Drive to the west is the old road down to the river. Coursey's smoked meats is on the old road right at the junction with the new road. This is one of two smoked meat houses that we have frequented over the years and brought home hams for friends and family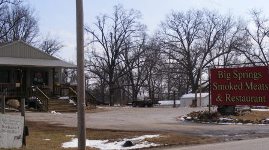 102.7 --Big Springs Smoked Meats and Restaurant is on the right where you can take a break and have something to eat or get some smoked meat for your roadtrip. We have often purchased a smoked ham with some smoked Swiss cheese to take with us and I admit that we can't get out of the parking lot before sneaking a few slices to snack on.


Continue Little Rock-Branson Road Trip
103.9 --St. Joe, AR, pop. 85. There isn't a lot reason to stop in St. Joe but the drive from here through Pindall, AR is a trip into backwoods Ozark Mountain country.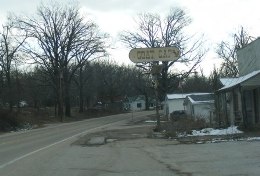 110.5 --Pindall, AR, pop. 95. Most of the business are closed down now but you can see the buildings that housed small shops for the traveler.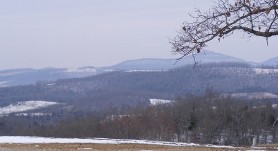 116.8 --The Ozark Mountains to the west around Western Grove, AR are beautiful any time of the year.If you are going to be in the area for a while a side trip or day trip south from Harrison on Hwy 7 will take you through one of the best scenic drives in the area.



The next 15 miles will take through Valley Springs, Bellafonte and into Harrison, AR. As you drive into Harrison you will see the downtown district on your left and the turn off for Hwy 7 is in this area.
Continue Little Rock-Branson Road Trip
132.6 --Hwy 65 takes a right turn at this point in the downtown district. If you are wanting to explore the Ozarks, Harrison may be a place to consider making your base. While only 30 miles from Branson, it is also close to several access points to the Buffalo River as well as outdoor activities such as canoeing, hiking and biking. And if you love caves there are several within a short distance of Harrison.

For motorcyclists, Harrison is a perfect spot to headquarter with several scenic trips nearby. In fact, the city has developed a "motorcycle riding guide of the Ozarks" so you might want to check out their website, harrisonarkansas.org. Of course, these and other routes are perfect driving tours regardless of the vehicle you are using.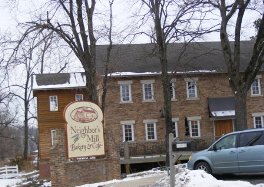 After you make the right turn, you'll continue through the business district with several good eating establishments along the way. A good little local café is the Ranch House which will be on your right. Further north on your left is an interesting place called Neighbors Mill Bakery and Café.
Continue Little Rock-Branson Road Trip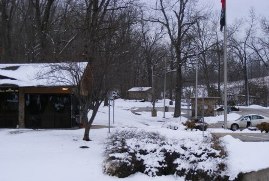 136.6 --On the west is the Arkansas Welcome Center and Parker's RV Park with a full service shop.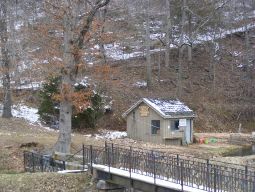 137.2 --There is an exit here, on the east side, to Bear Creek Springs which is just a short ways up the road. If you're staying in the Harrison area and have time for a little trout fishing, you'll want to check this place out.

Just past this exit is the one to hwy 62 West which will take you to Eureka Springs, AR about 40 miles down the road. this would be a detour from your Little Rock-Branson trip but Eureka Springs is a great place to visit. You can also take a short day trip from Branson during your stay there.



Continue Little Rock-Branson Road Trip
As you continue the remainder of the Arkansas portion of your trip, you will travel the new road between Harrison and the Missouri state line. Again, this is an improvement for time and safety but loses the character of the old road, however, there are some wonderful scenic views from the new road.
Continue Little Rock-Branson Road Trip
152.5 --Missouri State Line at Ridgedale. You are now in the Branson area and depending on your lodging destination there will be several exits ahead.



155.5 --The junction with Hwy 86 west is the southernmost exit for the Branson area. Hwy 86 takes you to Big Cedar Lodge and resorts along the eastern and southern shores of Table Rock Lake. You can also use Hwy 86 to access Hwy 13 that will take you to the Kimberling city area.



156.7 --Graham Clark Road Jct. Going west are a few resorts on the eastern edge of Table Rock Lake.



158.3 --Hwy 265 Jct. can take you west to Table Rock Lake and Table Rock Dam. After crossing the dam, you can take a left at the stoplight that is just past Chateau on the Lake Hotel and Resort and this will keep you on Hwy 265. Hwy 265 can be taken to western Branson, Silver dollar City and Shepherd of the Hills. If you turn right at the stoplight past Chateau on the Lake, it will become Hwy 165 and will take you into areas in south Branson and along the north shores of Lake Taneycomo.



159.8 --Branson Creek Road is to the east off Hwy 65 and will take you to the Branson Creek Resort area and on to the Branson airport.



161.3 --Hollister and Hwy 165. This exit takes you into the newer development in Hollister. If you are wanting to take Hwy 165 west to the dam, you will need to take a left at the end of the ramp and go back under Hwy 65 to the stoplight at the entrance to College of the Ozarks. Take a left and follow Hwy 165.

In front of you at this light is The Keeter Center Lodge. It is a beautiful place to stay and has one of the premier Sunday brunches in the area. I also recommend driving into the campus of College of the Ozarks. It is known as Hard Work U and has a beautiful campus. Ralph Foster Museum is also on campus and is a wonderful museum on Ozark history and culture. This is a must see in my book.

Turning right at the stoplight will take you into the historic old Hollister downtown area. This is also a great place to spend some time.



164.1 --Hwy 76 exit. After crossing over lake Taneycomo you will access the exit ramp to Hwy 76. Turn right to go to the downtown area and Branson Landing and turn left or west to take the strip.



165.0 --After taking the Hwy 248 exit you can turn right and go southeast to the Branson Landing and downtown area. Turning left or west takes you to Shepherd of the Hills Expressway and the Red Route. This route will take you to the lodging, theaters and restaurants on Hwy 248, Gretna road, the Shepherd of the Hills Expressway and the western section of Hwy 76.



165.9 --Branson Hills Parkway exit. Hampton Hills Suites and the Payne Stewart Golf Club is at this exit along with lots of shopping.



168.7 --Hwy 465 exit. This is a beautiful drive called the Ozark Mountain Highroad and takes you to Table Rock Lake, Silver Dollar City, Shepherd of the Hills and Branson West. Coming from the south this is not the shortest route to the western area but it can be used if you missed the earlier routes.



We hope the page has given you some insight to a Little Rock-Branson trip. Though the bypasses and new roads have taken some of the character away from the Little Rock-Branson route, it has made it quicker, safer and has provided some beautful views that were not available from the old road.
Summary statistics for Little Rock-Branson road trip
Mileage
: I-40, exit 147 to Branson Hwy 76 = 164.1 miles (Ark miles-152.5 m, Missouri miles 11.6 m)
Highways
: Arkansas I-40 and Hwy 65
Estimated Drive time
: 3.5 to 4 hrs